CONTEST HAS ENDED.
Starting Date: November 8th, 2012
Ending Date: December 23th, 2012
I changed the rules a bit from when I first announced this contest. This is how it works. With New Years rapidly approaching, preparations are needed to make an awesome festival! However, the town of Tsuki no Hito does not have a planning committee to do this, so us citizens need to pull our resources together. Below is a scavenger list of things we're missing: locations, items, and people (see additional notes after list for further details)!
Please send all Moondrop answers to me through PM! Make the subject "Moondrop #". e.g. "Moondrop #1", or "Moondrop #1,3-5"
Additional Notes:
+Moondrops 1,4,5, and 6 require you to take a picture using a camera and uploading it to the internet. If you don't have the means to do so, you may take pictures from the web BUT make sure that you indicate the picture is not yours. *You do not have to use a camera for Moondrop 2.
+For Moondrop 2 and 6, please indicate which HM character and HM dish, respectively, you are referring to. If you feel that your other pictures need a description to explain why you chose it too, please do so!
+Moondrop 1 was inspired by Pinkcat Flower! It sounded like a good idea so I added it in. :3
RANDOM MOONDROPS
These moondrops will be posted in this topic at random times until the end date of the contest. There are 4 in total: Moondrops 7-10. For these Moondrops, you will have to search for a post made by me that contains the hidden object/code specified in the Moondrop (hints will be given to make it easier). These are OPTIONAL and do not need to be completed. However, they do give you points that could make you a winner!
Prizes:
+1st, 2nd and 3rd place will each receive one of the following prizes: cow plush phone holder, official HM tote bag, homemade door sign. 1st place will get first pick, 2nd place second pick, and 3rd place will get the remaining prize. Here's a picture of each: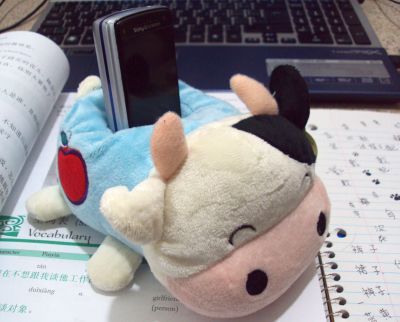 Cow Plush Phone Holder (may not be able to hold some smart phones... but you can use if for other stuff xP)
Official Harvest Moon Tote Bag from Natsume.
Homemade Harvest Moon Door Sign, front and back pictures. Includes string for hanging. Made out of foam cardboard and printed on cardstock. Chinese textbook NOT included.
+All participants (including the top 3) will receive Harvest Moon themed trading cards (also created by me). Each set contains 5 laminated cards, except: 3rd place receives 1 bonus card, 2nd place 2 bonus cards, and 1st place 3 bonus cards.
+IF YOU DO NOT WISH TO GIVE OUT YOUR ADDRESS (to tgains, not me): Please tell me ahead of time so I don't make physical cards unnecessarily. You have the option of receiving your cards electronically through email and you can print & laminate them yourselves.. or just do nothing with them.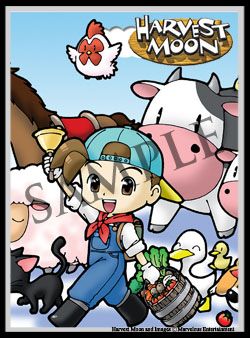 Front and back of the trading cards. The side shown on the left will look the same for all cards. The right picture is specific for Popuri's card, obviously.
Point System:
Points are given mainly for creativity and accuracy (the latter especially for Moondrops 1, 2, and 6). For Moondrops 7-10 not on the list, completion/accuracy give points.